The Residences and Estates of La Torretta Del Lago are a combination of waterfront, water view, golf course and interior homes. Thoughtfully arranged around a challenging golf course, the spa and waterpark, the shores of Lake Conroe, and the old forest of trees La Torretta is a luxurious retreat to come home to.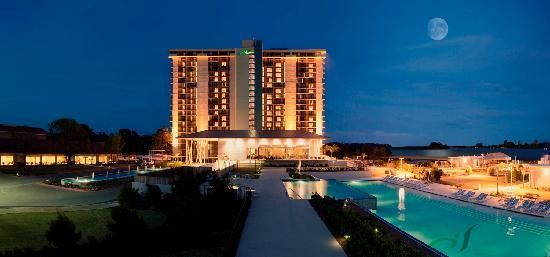 Having undergone an extensive renovation ($130 million) just a few years ago, the amenities for the residents of Del Lago are excelled by none. The water park offers "retreat" areas for adults, play areas for children, and a lazy river to please everyone. Award-winning French chef Albert Roux created a restaurant for the 445-room resort.
Reviews on the Spa and Resort at La Torretta are mostly good to excellent. Several hundred well thought out comments can be found on TripAdvisor.com. One review in particular seemed to capture the essence of it: "We were on the eighth floor and it was a wonderful view of the aqua area as well as a small lagoon area. Cannot compare with anything else." Every review of this resort mentions the balcony view of the lake as being beautiful. The only two consistently negative comments I've run into about the place are: Air conditioning not quite able to keep up when very hot and too far to get to other restaurants.
That's enough about the resort – now on the neighborhood!
Del Lago is in the Montgomery Independent School District and is conveniently located close to most of the schools and shopping in the area. The tax rate of Del Lago is the lowest on the lake at 1.9%.
Homes in this neighborhood can range from 1800 to 3000 square feet. Not many are smaller, but there are several that are larger. The price ranges are also wide from the low $200's to over $750,000. As I searched for homes for sale and some that are pending a sale, the construction dates of the homes were fairly consistently between 1995 and 1998. Yes there are some homes from the late 1970's and some from 2000's.
Some of the best values for high end waterfront properties in the nation can be found in La Torretta Del Lago!
Just keep an eye out for the occasional deer or golf cart running across the road, and a few speed bumps. Other than that you'll enjoy even a casual drive around La Torretta Del Lago.
For all your Montgomery County Real Estate Needs contact the Michelle Wheeler Team
Wayne Stroman, Broker
Lake-Conroe-Realtors.com TREC Lic. 0416282
Call the Property Desk at 936-588-4444
Michelle: 713-828-2737
Sales Office: 14500 HWY 105 W, Conroe, Texas 77304
Mail to: PO Box 2991, Conroe, Texas 77305
Email: info@stroman.com
Fax: 936-588-4884